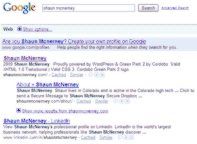 Q. What is displayed when you Google your name?
A. Your Internet image.
Wouldn't it be nice if you could control your Internet image? (here's mine: Google, Yahoo!)
If you're like most people, when you search for your name you see links to sites you don't control and information about other people with the same name.